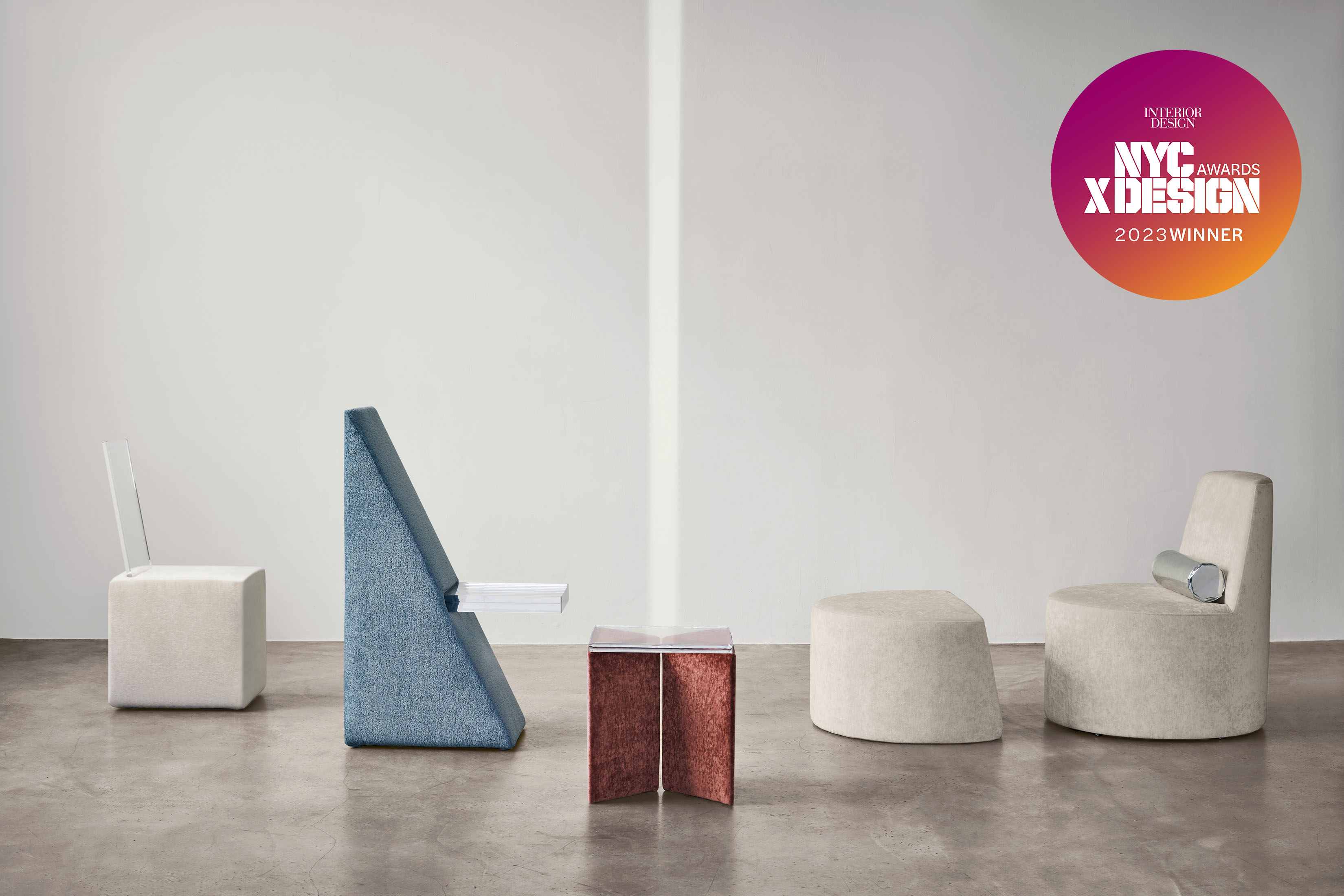 BLOC COLLECTION
From: C, a New York-based design studio led by Caroline Chao, presented BLOC, the designer's inaugural furniture collection. BLOC Collection won a 2023 NYCxDESIGN Award jointly presented by Interior Design Magazine and NYCxDESIGN. The collection was also showcased in a curated exhibit called "PLAYSCAPE" during Milan Design Week.
BLOC is a five-piece collection consisting of the Cube Chair, Wedge Chair, Tri Stool, and Cylinder Lounge & Ottoman. The collection draws inspiration from familiar geometric shapes often associated with children's play blocks, such as a cube, wedge, triangle, and cylinder. These shapes and geometries are highlighted by their material contrast - transparency versus solidity, softness versus hardness, and textured and imperfect versus smooth and fine. Unconventional material additions such as transparent lucite blocks transform familiar shapes associated with childhood and play into elevated sculptural objects and provide functionality and comfort from otherwise abstract geometric forms.
Learn more about the collection

---
VIEW COLLECTION:
NYCxDESIGN 2023
From: C, a New York-based design studio led by Caroline Chao, presented VIEW Collection, a series of reflective sculptural furniture and the second of two debut furniture collections by the designer. VIEW Collection was debuted at ICFF during NYCxDESIGN from May 21-23, 2023.
The VIEW Collection is a five-piece collection of furniture seeking to bring interactive views into objects and furniture. These pieces include the Tea Table, Coffee Table, Orb Wall Mirror, Shard Wall Sconce, and I-Beam Light. The collection represents the belief that objects have the capacity to shift perceptions. Views are used to challenge the viewer through intrigue, curiosity, and joy when unexpected visual effects are produced through interaction with the pieces. The pieces change constantly as you live with them - colors may change with the sun angles throughout the day, a reflection may reduce or multiply when viewed from a different angle, or the piece may create an optical effect that displaces or distorts your reflection in an unexpected way. The user is encouraged to participate in the reflections, in a sense becoming a part of the piece.
Learn more about the collection
---
UPON FURTHER REFLECTION:

A groundbreaking group exhibition during NYCxDESIGN 2023
From: C is thrilled to participate in "Upon Further Reflection", a groundbreaking All Female-Identified AAPI Exhibition, to open during NYCxDESIGN at the Phillip Lim flagship store. Co-curated by Lora Appleton and Andrea Hill in partnership with the Asian American Pacific Islander Design Alliance and The Female Design Council.
Participating Artists & Designers:
Ellen Pong, Rosie Li, Soft Geometry, Jialun Xiong, Moving Mountains, Windy Chien, Ti Chang, Susan Maddux, Jean Pelle, Lynn Lin, Teruko Kushi, Caroline Chao, Tina Scepanovic, Pooja Pawaskar, Bowen Liu, Jean Lee, Urvi Sharma, Virginia Sin, Wu Hanyen
-
Exhibition Photography by Angela Hau
Learn more about the exhibition
You Are Infinite

Year 2023

Exhibited at Upon Further Reflection at Phillip Lim NYC Flagship

A seemingly monolithic black column is broken, revealing an infinite interior. The interior is presented as a kind of seeing machine. Three distorted lenses and repositionable mirrored doors do not provide a typical vanity mirror view; instead distortions and dynamic reflections allow the viewer to see herself in unfamiliar ways. Existing somewhere between a portable "zushi" shrine, a "wunderkammer"/curio cabinet, and a mirrored vanity, a seemingly empty box is filled with reflections of infinite ways to see oneself.

Reflections provide a charged and rich entry point to explore the concept of self, identity, and personal reflection. Four multi-hinged doors allow viewers to engage with the piece, with their own changing reflections, and to see their reflection in an endless array of unconventional and unexpected ways. It is my hope that we celebrate our diverse backgrounds and cultural identities, and remember that we need not define ourselves or others in any single way.